TIKITUNES BEST OUTDOOR BLUETOOTH SPEAKERS – TOP GIFTS REVIEW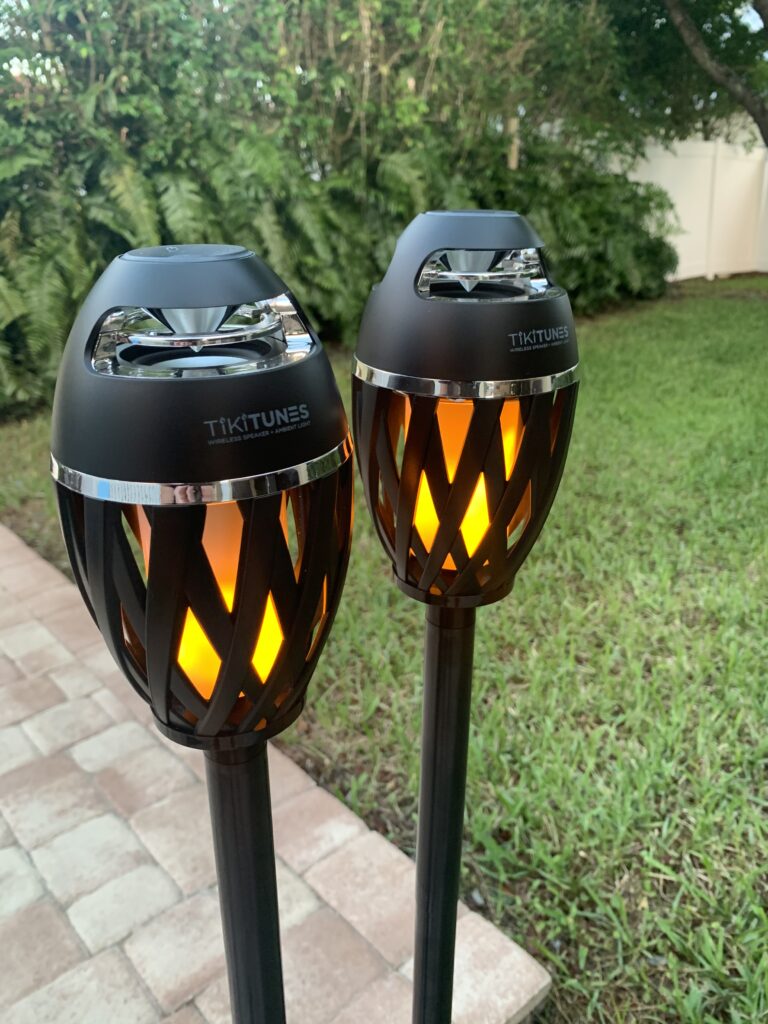 Over the past few years I have really liked trying out various kinds and types of speakers with Bluetooth and in the past few weeks I have always had the joy of working along with a TikiTunes Wireless Speaker by Limitless Innovations. Let me tell you why this amazing speaker should be the next thing on your shopping cart.
WHAT IS TIKITUNES?
TikiTunes is a unique, award winning, outdoor/indoor speaker with bluetooth that has an appearance like that of a tiki torch, nevertheless much cooler! It is manufactured with the top quality raw materials, and it has an amazing sound and also is a wonderful conversation article that makes your friends exclaim "Wow! Where was that bought from?!" "I purchased these for a gift and every person talks about it. Will surely buy that again." ~ Ginni (Verified Purchase)
TikiTunes – driven by a battery that is rechargeable and provides continuous playtime of 6 hours from any suitable device with bluetooth. The speaker comes with dual sync capacities which allows you to make connections to two TikiTunes. If you say this fast five times  from an area of about 30 feet to obtain the perfect stereo sound.
This product, TikiTunes Wireless Bluetooth Speaker  provides continuous playtime of  6 hours with any compatible wireless device with a 2000 mAh built-in rechargeable battery. You can connect 2 speakers making use of the dual syncing abilities from an area of around 30 feet to obtain the perfect stereo sound.
Its cozy ambient LED light emits a lambent, impressive light providing a flawless atmosphere for evenings that are spent outside on cool night outs.
The speaker comes with a rating of IP65 meaning it is dust proof & water resistant that makes it ideal for both indoor and outdoor
INSTRUCTIONS FOR OPERATION
Switching On/Off – Wireless Tikitunes Speaker
1. Push & hold to bring power up the Wireless TikiTunes Speaker. the LED Light Indicator will switch on with the power on sound and blink when done.
2. To switch power off, press & hold the Wireless TikiTunes Speaker. You will hear the power off sound & then the LED light of the Indicator will go off when done.
FEATURES OF TIKITUNES
The bass is remarkably punchy  (for a tiny speaker) and also along with the arousing mid-range, it will make you listen for hours continuously.
Publish Watches Together (Favorite among customers!) — This enjoyable & distinctive configuration lets you pair 2 TikiTunes simultaneously to obtain a stereo-sound that is authentic.
Cooler Atmosphere — The glowing LED light glimmers precisely like a blaze and gives out  a flawless atmosphere. Also — it works with / without an audio!
You can take It Everywhere and anywhere (Outdoors & Indoors) — Its lightweight and mobile, and it is perfect for any types of excursion. In addition to it, it has been certified & designed to be water protected and dust-tight. Relax and enjoy your music in sun, snow or rain.
Keeps Going On and On — This high quality rechargeable 2000 mAh battery enables music to be played uninterruptedly for a period of 6 hours (however, majority clients have reported up to a playtime of 10 hours.
User friendly, So anybody can use them. The bigger buttons are simple and comfortable to press.— anybody can decipher it (from young children to adults who are non-techy).
Compatible With Android and Apple Devices — TikiTunes is compatible with many other smartphones.
Money-back guarantee (30-Day) & warranty of 1 Year — In any case you are 100% not happy with the product, you may return it soon, no restrictions
KEY SPECIFICATIONS
Device Pairing Name: TikiTunes
Wireless Transmission with a distance of 30ft
High–Efficiency Built-in Lithium Battery: 7.4V/2000 mAh
Output Power Of 5W
Play Time Of 6 hours
SNR: < 75dB
Distortion Rate is <10%
Power Supply of 5V/1A
Products Dimensions: 4" x 6.5"
REASONS TO PURCHASE TIKITUNES?
The product being rated at perfect 5 on 5 stars among the majority of its users, the user friendly nature of the Bluetooth device is unparalleled. The speaker which is tremendously simple to use. Since it is well-suited with majority devices, you only require it to couple it up along your iOS  or Android device & start loving your music.
In an effort to make usability of the product easy, there comes the various buttons :  LAST SONG, ON/ OFF, NEXT SONG  PLAY/ PAUSE, on the speakers upmost base. Volume control keys are also included.
To have a definitive stereo sound, 2 TikiTunes speakers can be paired with a range of around 30 feet. The amazing feature makes the product ideal for an event outdoor or even at a big apartment. The speaker can be set on a stand or any table. It features an opening at the bottom, that allows for hassle free attachment to a variety of stands.
Because of its battery (in-built) that is of high capacity, the TikiTunes speaker with Bluetooth provides you with up to a long 6 hours duration of continuous music playtime, which most comparable products offer. The ambient LED lights  set up an ideal environment for your night outside with friends while you keep enjoying the super-quality music  produced by your speaker. This being an ideal product, one must really possess it.
HOW TO PAIR YOUR TIKITUNES BLUETOOTH SPEAKERS
On the outset, Prepare Mentally !  Take a deep breath. Assure yourself that the task  is not rocket science. It's just a simple  technology… and it is not going to be difficult, but easy and simple.
Alright, are you ready? Let us begin!
First Step : The 2 TikiTunes devices have to be placed one beside the other.
Second step : Turn on both of them by pushing the power key at the centre once:
Third step: Until it starts flashing, keep holding down the power key on ONE of the device:
Fourth step: Repeat it with other TikiTunes the same procedure:
Fifth step: Open the device you are using; a smartphone (or a TV,  computer, TV) and now make a connection to the TikiTunes.
That is it!.  Now you can move the TikiTunes speakers away & use it like any regular speaker. (Didn't I tell you, that It was simple).
By making use of the LED keys on the TikiTunes wireless speakers or by making use of your device, you can have control of the speakers.
I hardly had any issues, It's that simple really –  but sometimes  such things could be really mind-boggling, I am hoping this is of help to you (or anyone who is fortunate enough to receive TikiTunes as present)! If you will excuse me, I have to go back to Florida Keys… I mean the backyard.