Jumpsmart Does a Lot More Than Just Start A Car's Battery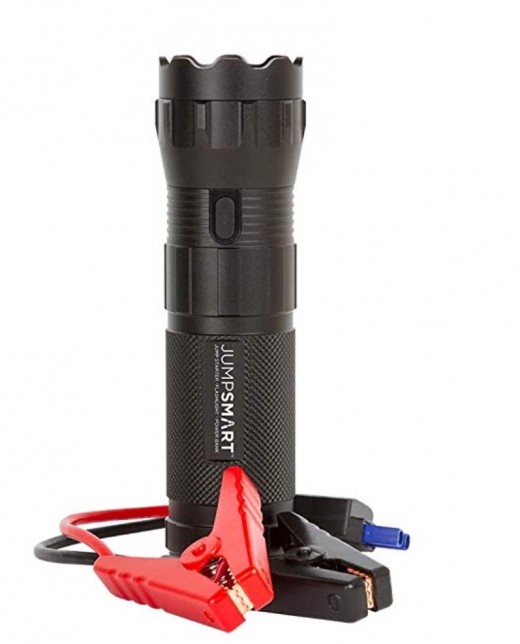 When A Smartphone Won't Do
Smartphone's have turned into ubiquitous devices that everyone carries around with them. As a result and partially due to the rise of quality cameras being built in, too many people think that there's nothing that a smartphone can't do. But while a smartphone can make a call from your car, it can't do a thing if the battery dies when you get into it — regardless of whether its in the garage or the driveway or a parking lot, if the car battery is dead, all the phone can do is make a call. And speaking of the car battery being dead, what if you need a light? Sure the phone has a tiny light embedded inside of it, but it's far from bright enough to let you see down the lonely road you're now stalled at because the car battery died or is dead. And taking it one step further, even if you're using the flashlight function on the phone, that's going to eat up a lot of power and if you're low there's no way for recharging it. Remember, the battery is dead. So good luck (actually it's bad) on counting on a smartphone to take care of all of the above. Maybe that's why you went into the trunk and took out a case holding the Jumpsmart Jump Starter Flashlight Power Bank.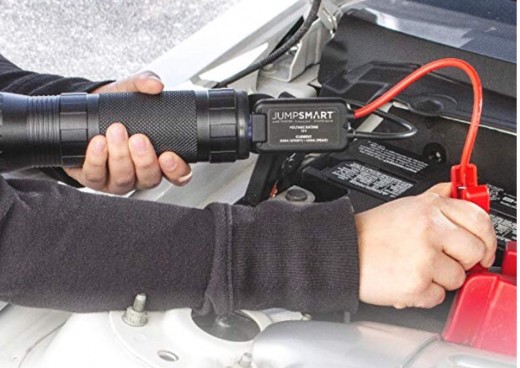 A Light In The Dark
So let's take the above scenario and replace the smartphone with the Jumpsmart. The first thing that's needed is a flashlight, but since there's one built into Jumpsmart, all you are doing is taking out the case that it came with from the trunk, opening it and pulling it out. Jumpsmart looks more like a big flashlight than anything else, even though that's just one of the three things that it can do based on looks. The fact that Jumpsmart is made from a durable aluminum gives it a hefty feel that's comfortably to hold and comforting to have — no plastic body that can't handle being dropped on asphalt for sure. The Jumpsmart's internal battery has a rating of 37000 mWh which is not insubstantial, plus who would plop it into the tunk and forget about it until now? Besides, Jumpsmart holds its charge but maybe you should be takin it out of the trunk and giving it a charging up every other month or so (more often if you keep the car outside in the hot sun).
So the flashlight switch is right there beneath your hand and easy to find and now you've got light. But unlike a smartphone, the four odes of light are intense and highly visible. The 8 Watt LED is rated at 330 Lumens and that's bright enough, even if using the low beam. Other choices are the high beam (does what it says and really hitting its stride at 495 feet of reach) and a SOS type flashing plus a strobe — particularly good for warning off cars like it was a flare should you be stuck at having to change the tire on that lonely road again. And not wearing bright clothes but instead black you had better give approaching cars more than just a last secod warning that you are there.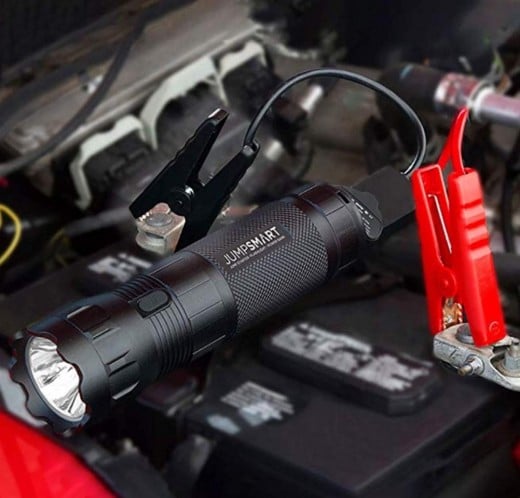 A Power Bank
So the battery is dead and you don't want to mess around trying to change a tire or don't know why the car won't start so you need help from a family member or a roadside service (like Triple A) or somebody, help! You pull out your smartphone to call, only to find it doesn't have enough of a charge to do jack. You could charge it from the car, only the battery's dead remember? Jumpsmart is right there again because its internal battery and that 37000 mWh charge makes it a suitable power bank, USB connecting and all. For sure you'll need your USB cable but isn't that already in the car? So plug the phone in and wait as the fast charging 2.4 amps do their thing. And if maybe you should have done this first because the flashlight could be depleting the battery, then check the battery level LEDs before hitting the lights next time.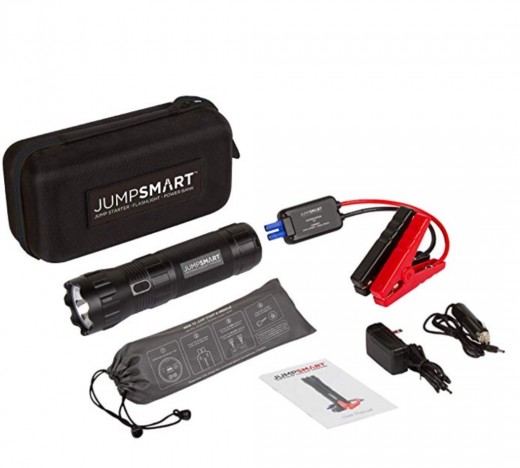 Jump Start Jumpsmart
The final use for Jumpsmart, and is part of the name after all, is to jump start your battery so you can get going — because you're either too embarrassed to call someone or don't want to spend the bucks on a service trip coming your way. This is a little bit more complicated and involved but Jumpsmart gives you everything needed so let's go it a whirl. The hood's been put up and another reason you're willing to give this a go is because the car (or motorcycle truck, SUV or even lawn mower — which you're not riding tonight)falls within the range of what can be worked on. That being a 8 cylinder, 5.0 Liter engine. Jumpsmart has 10 safety features built into it and audible alarms and visual indicators but it can't safeguard against stupidity, so you've read through the process and are approaching this calmly. The case has the wires you need for this (also a battery charger) and the wires attach to the back so its a simple plugging in when ready to use. And then you connect the wires to the car battery and give it the juice needed to start up the car. Keeping the motor running, you disassemble Jumpsmart, put it away, close the hood and get going. Maybe there's some dinner leftovers on hold for you.
A jump start device like Jumpsmart is one of those devices that you hope never needs to be used and which can sit inside the trunk and rarely see the light of day. But considering that Jumpsmart has a flashlight and power bank, it's a lot more likely it's going to find itself being used regularly during a road trip. That's a lot of use and peace of mind for a retail of 4159.99 (but available for much less than that).