We have all heard of those unverified claims or legends  about the quality of Bluetooth speakers.    However contrary to what you may hear, Bluetooth speakers are really amazing. The convenience they provide of being able to take your speaker wherever you go is often overlooked.
Conceived by Dr. Jaap Haartsen at Ericsson and named after a renowned Viking and king who united Denmark and Norway in the 10th century the Bluetooth standard has been here for 25 years.   Roughly coinciding with the development of Bluetooth in 1994  Larry Schotz applied for a patent for a digital wireless speaker system.  Although disruptively different than its wired counterpart (as indicated in the patent) "This allows the user to listen to high quality audio in a variety of locations without the need of independent stereos or external wires."
The Bluetooth speaker market continued to evolve. In 2016, Apple announced elimination of the audio port from its iPhone which transformed both the headphone and speaker market. In 2018, an estimated $1.96 billion USD worth of Bluetooth-only speakers were sold in the U.S. retail market.
The Evolution of Bluetooth Speakers 
Limitless Innovations announced the latest transformation in Bluetooth speakers. The TikiTunes Speaker is a mesmerizing portable speaker featuring state of the art wireless true stereo sound and atmospheric LED ambient lights.
The TikiTunes Speaker is designed to blend gracefully with virtually any setting.  Combined with your musical selections, this speaker will accentuate your table with its acoustic elegance. While connectivity to the speaker is through the technical complexity of Bluetooth.  Control of this device is quite simple. You can adjust the volume on TikiTunes by either using the controls on your device or by holding the (+) and (-) buttons.  A large ring on top of the speaker contains all controls: On/Off, Next Song/Last Song, Volume Up/Down, Play/Pause, flame lamp On/Off.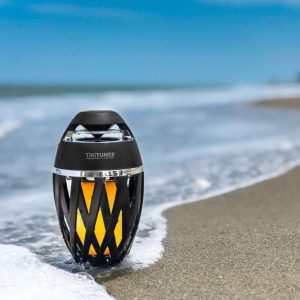 The rechargeable batteries provide up to 6 hours of music playback. The TikiTunes speaker can be charged using the included micro to USB cable. The light on top of the TikiTunes Wireless Speaker will turn red while charging. The red light on top of the TikiTunes Wireless Speaker will turn off when it is fully charged.
The only thing better than one of these TikiTunes is two. Fortunately you can connect and a pair two of these TikiTunes to your audio device at the same time, allowing you to use both of them at the same time.
Features and Specifications
Dimensions: 4 x 4 x 7in
Shipping Weight: 0.875 lbs
Colors: Black
Connectivity: Bluetooth
Power:

Battery: 2000 mAh rechargeable battery
Battery Life: 6-hours of continuous playtime
Charges via Micro USB cable (included)
Charge Time: 2.5 hours to charge from a fully drained battery

Features:

Water Resistant: IP65 rating
Connect up to two speakers using dual sync capabilities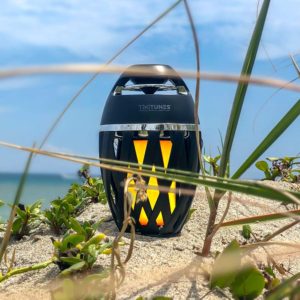 For more information or to acquire the: TikiTunes Portable Bluetooth Outdoor Speaker